I entered into the world of reading about as eagerly as the duck Ping endured a spanking.
Rather than sympathizing with poor Ping, however, I despised that disobedient duck. Hour after hour (hey, minutes are hours to first graders!) I slaved over that book, forced by my malevolent teacher to chip comprehensible sentences out of a text surely meant to be read TO children, not BY children. Ok, maybe malevolent is a bit of a harsh word... I did like her a lot when she wasn't forcing me to read monstrous tomes like

Ping

(surely in company with

Les Miserables

,

The Count of Monte Cristo

, and

Moby Dick

) and tie my own shoelaces.
Then I met the Boxcar Children. They were amazing! They solved mysteries! They ate tiny vegetables! (I was already devoted to food.) I had truly met reading at last, and it was love at not-quite-first sight.
The library became like a second home. I checked out so many items that I had a system by which I could balance a teetering pile of thirtysomething books carefully, carefully, oh so carefully to the car. All the librarians knew me by name.
The first gift my husband gave me was a whimsically illustrated set of Oz books. How could I resist him?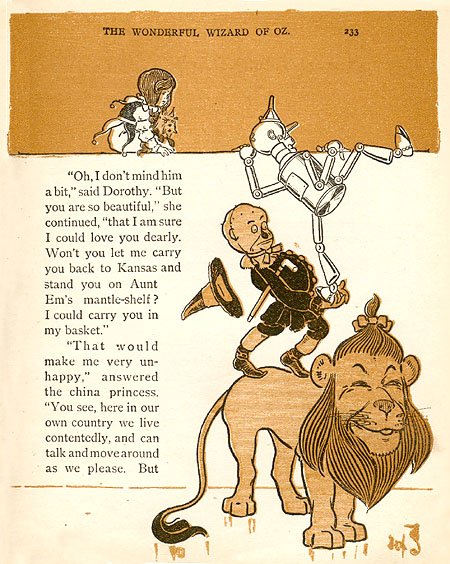 Oh how life has changed! I look back at dear silly little Ping, bane of my childhood, with an indulgent fondness. Last summer I cooked with my own tiny vegetables from the sparse first harvest from my miniature garden (altogether not as filling as imaginary tiny vegetables). Visits to the local library involve trying to swoop in and grab our reserved items before the inevitable outbursts that my generally good natured child saves especially for the library and church service.
I don't read quite as much or as deeply these days, but I do have a stellar excuse for revisiting gorgeously illustrated picture books.
And literature, art, food, cuddly babies, and such wonders are so much lovelier when they are shared with kindred spirits. Thus this blog is born, a place to adore and to share the delights that make life a beautiful fairytale.