Esther: Everyone who's an adult and the least bit cool drinks coffee. If you're extra enlightened, you also think Starbucks is pond scum, you drink your coffee black and you act like anything not freshly roasted will kill you (the freshly ground part is a given).
And then there's me and Bethany who have been excluded from mainstream society for individual reasons. We drink tea instead.
I for one happen to enjoy my exile into dry leaves. And so we bring you four of the delectable concoctions that currently tempt us.
Green Chai with Pumpkin Pie Spice and Cream/Eggnog
Make no mistake, besides the plausible antioxidant qualities of green tea...this drink is about as good for you as a giant gingerbread cookie. Although it should be lauded for keeping me from chugging large tumblers of eggnog.
If you are prone to sneaking christmas cookies and eating far more than you promised yourself you would. Let me introduce you to a satisfactory drinking companion.
(or if you dont' like eggnog) Then this...
It's like a hug, an enticing book and a cozy day...all in one. Plus, it's might tasty, and is an elixir even the Grinch couldn't stay cranky with.
My top favorite tea drink is embarrassingly close to Esther's, perhaps the pauper lookalike or the country cousin.
The perfect cup of Genmai-cha
Start with the good old Japanese standard, genmai-cha.
I wasn't kidding about the pauper part; genmai-cha was supposedly invented as a way to stretch a supply of green tea by the addition of toasted brown rice. In my opinion, the rice gives the tea a deep, hearty flavor that makes it much more satisfying than plain old leaves. The fact that you can buy it dirt cheap and still delicious definitely is an added plus.
I make my genmai-cha a little differently from other teas. When I worked at a Japanese restaurant, we simply poured hot water straight through a strainer full of tea leaves into the pot. Tables we liked got fresh leaves..... most of the time people got pots full of steaming liquid that had been strained through very wet and used leaves though. Fun fun, right? (Good old behind the scenes info) Anyway, the first water through the fresh leaves is amazing, with a perfectly clear taste. So now I treat my genmai-cha like a rare steak, I let the hot water just barely touch it, but no lingering allowed. Definitely no soaking or steeping. The flavor is worth it, and the price is completely justifiable.
The tea is amazing on its own, but I'll admit I love it with a splash of.... milk. No frills, but hey, you can drink it all day with no apologies to either your tastebuds OR your arteries.
I dance an ambiguous waltz with coffee and wine (both of which I do enjoy). I've never been able to tell you what I was drinking without much practice, book reading, and effort. All those subtle hints of caramel, oak, raspberries, chocolate...dark roast, nutty roast are not innately easy to pick up on. I have no doubt they exist and that connoisseurs can taste them, but some of us are making it up with all the subtlety of the Emperor who had no clothes.
I hope I'm not offending any tea lovers when I say this, but tea isn't nearly so profound and complex. English breakfast does not taste anything like Raspberry Zinger. Even my children can tell the difference between Country Peach and Constant Comment.
I think the variety is one of the things that makes tea amazing. Plus it's warm, and is a pleasurable way to trundle water to starving cells.
My other current favorite is White Tea With A Hint Of Peach. I have it in loose tea, Lipton, and some organic/breast cancer awareness version. It's not overly tangy, and tastes like a gentle summer day. I could (and do) drink gallons... plus it comes in shiny triangle tea bags, which are magical and extra thrilling.
Bethany:
Esther and her sophisticated anti-anise taste will hate this one, but oh is it yummy. Since my reaction to black tea is almost-but-not-quite as bad as my reaction to coffee, I can only drink a small cup or two of this at a time, but I do fully enjoy what little my body can handle. (For anyone concerned about the anise flavor, for some reason it tastes completely different from black licorice in tea, and I do have friends who hate the taste generally but love it in teas like this or even when it's more prominent as in the stuff
Aveda offers
)
The first time my friend mentioned to me that she loved That Tea, I must admit that I thought she was mispronouncing Chai tea. And since then I've had my fair share of being misunderstood as well, receiving cups of Chai instead, and having to convince skeptical baristas that it is on their menus.
Like Masala Chai, Thai tea is generally a basic black tea flavored with a variety of spices. You can start from scratch and toss in the spices yourself.... or you can pick up pre-seasoned bags at your local Asian market, tea specialty shop, or apparently Amazon.
In the opposite method of my genmai-cha, brew up a cup of tea so strong and hot it could fistfight with an energy drink. Add a ridiculous amount of sugar and coconut milk if you have it.
Condensed milk works as well, depending on your personal taste preferences. (If you don't mind the flavor of powdered creamer, which I don't, you can scratch all of the above and take the even easier route of simply dumping a packet of powdered tea into a cup of hot water. Did I say that?).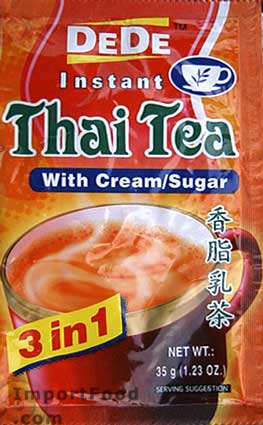 While many people drink it iced, I love it hot too. Mmmmm.
Esther:
It's true, I hate anise flavored things and I think Thai tea tastes like orange dirt with too much sugar. But in my family I am very very alone in that opinion. So don't take my word for it. It looks so pretty when you order it in a restaurant, all swirling and exotic looking. Every now and then I convince myself I must like it, so I sip it again only to be reminded it tastes something like liquid frog.
Try it and tell us what you think, and while you're at it, we'd love to hear any of your favorite hot non-coffee drinks.