I always thought that the oft-used image in fiction of a sinister creature deeper than night was quite fantastical, but now I believe it's perfectly real.
We pulled into the driveway at around 9:30pm, and as I stepped out of the car I glanced down at the foot of the fence and saw its silhouette looming dark against the already-dark shadows.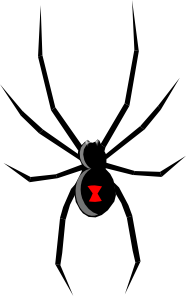 I was going to post a clear picture of the creature in real life, but I just couldn't do it. Too horrific. I'm hoping to avoid en masse nightmares (or unsubscription *cough cough*).
They say we fear most what we don't know, but truth be told... I can happily admire Esther's pictures of rattlesnakes, creatures which I've only encountered a few times, but even just pictures of black widows still give me the serious creeps despite the fact that I've handled dozens of them over the years.
But I get ahead of myself. Through the darkness I felt certain I was looking at a black widow. We've killed many in our thoroughly spider-infested backyard, so they are definitely around, but beyond that there was the disconcerting quality of shadow-within-shadow. As a child, every time I saw a spider I wondered if it could be a black widow. But when you actually see one, you don't wonder; you know. In daylight, at least. In the dark, I snapped a picture with flash.
The details were unclear in my Loch Ness/UFO-style snapshot, but a quick blow up revealed the tell-tale flash of red against slick, shiny black, confirming my paranoia.
Black widows are considered the most venomous spiders in North America. While their bites are seldom lethal when medical care is received, I've known people who have suffered poisonous spider bites, and who wants to require that kind of medical care?
So for those of you lucky enough to have not met a black widow, now you know where to never come. For those of you who've been around these suckers, are you more used to them than I am? (I'm pretty sure Esther is) Do you have any methods of discouraging them from setting up vast citadels and settlements in yards where children explore?
I am horrified by spiders, and hours later I am still shivering and entirely creeped out, but somehow having a child, especially a child who was recently playing in the immediate vicinity, activates that mother bear adrenaline pumped primal roar of indignation. Sorry, Charlotte. This yard belongs to Jack.